According to Ford, as the population grows, electric vans will play a role in creating a sustainable urban environment
At what point will the increase in population and delivery of goods in the city cause mobility and urban life quality to deteriorate and become unsustainable?
Ford Pro posed the question of when the growth of population and the related increase in goods deliveries in cities will negatively impact mobility and urban life quality, rendering it unsustainable, and analyzed the forecasted growth of both phenomena with Reuters, seeking answers in new forms of electrified transportation.
More people and more deliveries in less space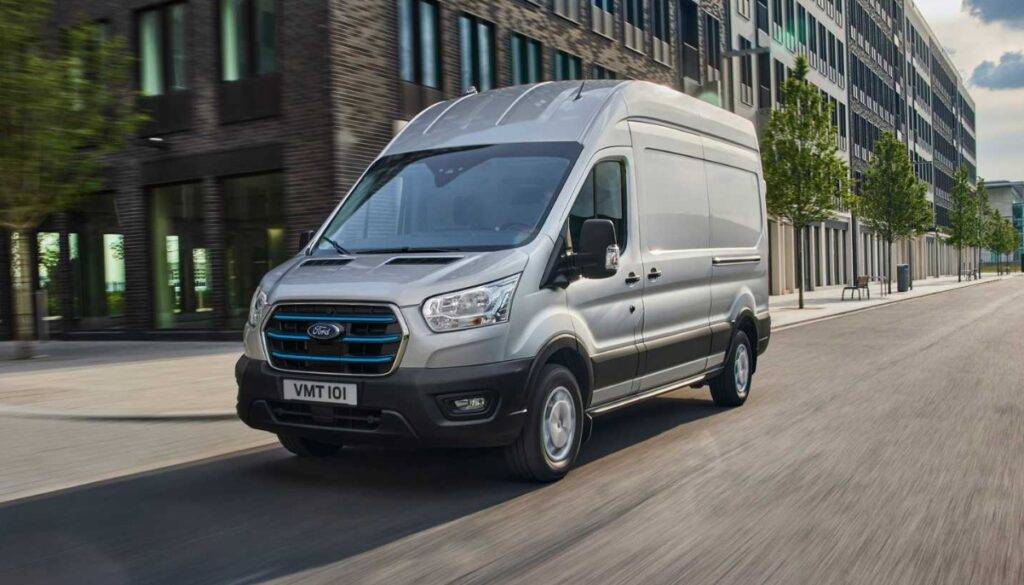 The report by Ford Pro and Reuters is based on the assumption that more than 55% of the world's population already lives in urban areas and this proportion is projected to exceed 60% by 2030 and 68% by 2050.
According to the report, over 55% of the world's population currently resides in urban areas and this percentage is projected to exceed 60% by 2030 and 68% by 2050. Meanwhile, the number of deliveries in urban areas is also on the rise. Pitney Bowes estimates a 27% year-on-year increase in the number of parcels delivered worldwide from 2019 to 2020. In addition, Ford Pro conducted a survey of European supply chain professionals and found that there has been a 21-30% increase in urban deliveries in the past two years.
These delivery volumes are already putting strain on city roads, causing congestion and difficulties in finding parking spaces (44% of respondents in the survey) and being on time (39.5%). Traffic congestion is estimated to have risen by 20-35% from 2010 to 2019.
According to the report, the number of kilometers traveled by light commercial vehicles (LCVs) in the United Kingdom has doubled since 1994, and the fleet of light commercial vehicles in Europe has increased by 14.3% between 2015 and 2022, with the density of commercial vehicles per 1,000 inhabitants rising from 69 to 76. If the size of the fleet continues to grow in line with demand, light commercial vehicles will travel an additional billion kilometers in cities in the UK alone by 2026.
Returns, meaning unsuccessful deliveries, play a significant role, accounting for around 14% of online sales. Over 72.2% of companies view the associated costs as a major burden.
More business, but also costs
The growing space problem caused by the increase in urban deliveries is impacting companies' business models in various ways. The analysis suggests that more work does not necessarily result in higher earnings, but rather, it leads to an increase in the cost per delivery (according to 48.8% of those surveyed) and the need to invest in supporting technologies (46.9%). Additionally, 44% of respondents believe that increased visibility is necessary.
However, according to Tom Thompson, the founder and corporate manager of Ford Motor Company's Last Mile Delivery, these issues conflict with the need for efficiency, sustainability, and livability in urban centers.
"When it comes to cities, the complaints always center around topics such as emissions, congestion, and road safety," he says.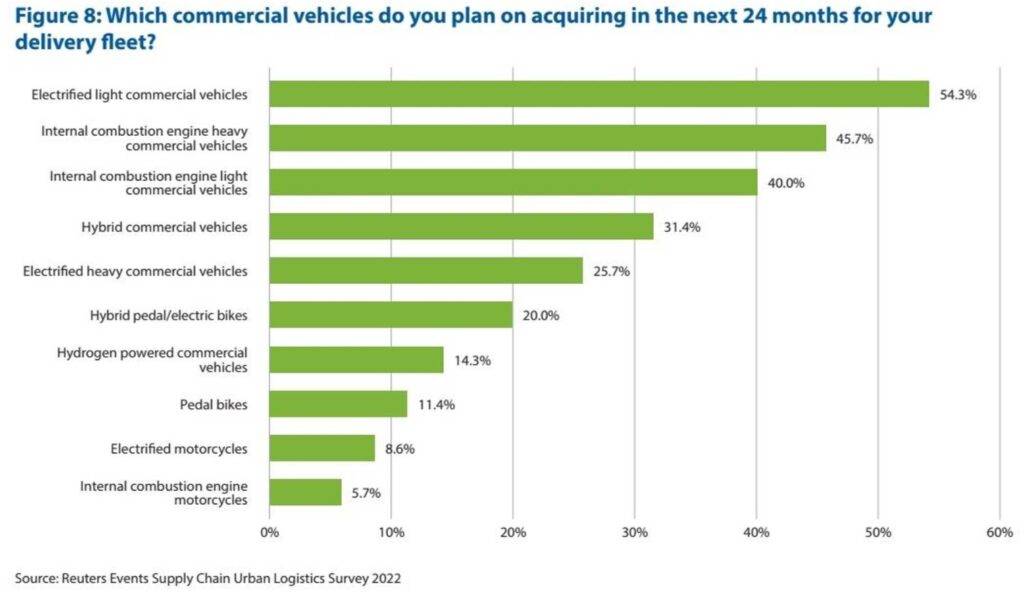 According to the report's findings, electric vans offer a range of benefits in regards to emissions, congestion, and road safety. It is no surprise then that in surveys about purchase intentions for the next two years, electric vans have taken the lead with 54.3% compared to 40% for conventional counterparts.
The transition to electric vehicles is primarily driven by the need to reduce emissions, but it also brings significant economic and operational benefits. According to the report, 63.9% of respondents expect lower operating costs and 41.7% expect easier access to delivery locations, without traffic restrictions that increasingly affect conventional internal combustion engine vehicles.
However, among the drawbacks, there is the cost of charging infrastructure which, according to 61.1% of respondents, requires significant investment and should be better supported by the public sector, both in terms of stations and subsidized tariffs.
The role of digitization
Alongside the growth of small vehicles better suited for retail deliveries, such as quadricycles and electric cargo bikes, the use of fleet management apps and services are becoming increasingly important in order to make the urban ecosystem functional.
Additionally, it's expected to see an increase in logistics hubs near city centers and parcel collection/delivery points. This way, home delivery can be gradually reduced and balanced by increased use of common collection points during other trips.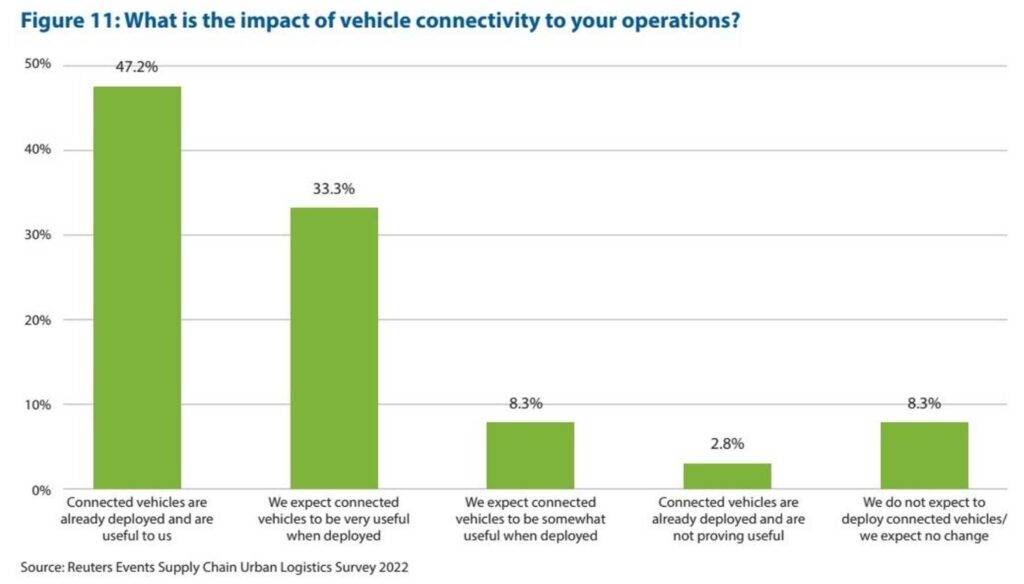 89% of the surveyed professionals believe that connected vehicles will play a crucial role in urban logistics. They believe that the development of a smart city will bring about significant transformations, but it will require investment.
According to survey results, the top priority technologies are believed to be route optimization (52.5%), followed closely by big data/analytics analysis (50.6%), and intelligent transport systems (42%). Furthermore, 44% of respondents believe that government investment in intelligent traffic infrastructures and collaboration with multiple partners through open data sharing is necessary to achieve optimal results.